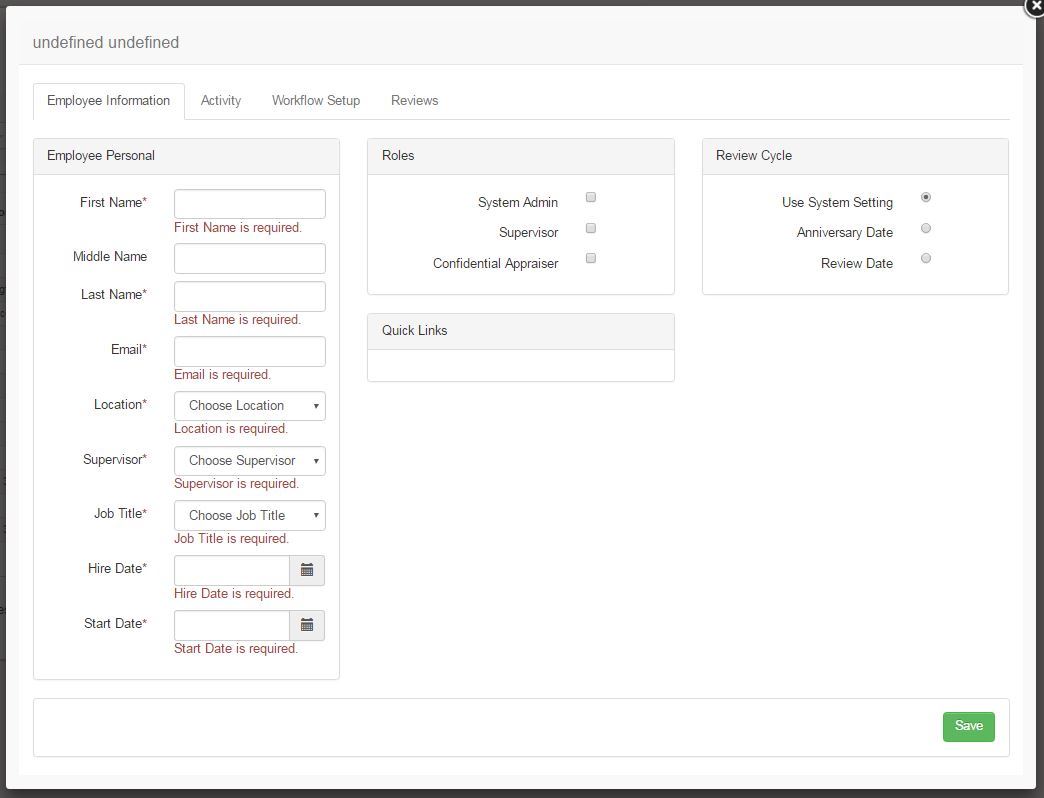 This screen will allow you to enter in the employee's information.

All, Employee Personal fields are required. When you are done entering in the information click 'Save' in the bottom right-hand corner. This will create your new employee.

Employee Information
Name -  this is the name of the employee.
Email - this will be the employee's username and password when they first login. This email will also be used to send system generated email.
Location - this is the location the employee works in.
Supervisor - this is the person responsible for this employee's review. They will be doing the main appraisal
Job Title - this determines what factors the employee receives on their review (if any are setup in the library). 
Hire Date and Start Date - these dates determine the review cycle (unless you are using a review date).
Roles
System Admin - this person has full access to CivicHR (and all modules)
Supervisor - anyone with this role will appear in the supervisor, multi-appraiser, and routing dropdowns. Mark someone as a supervisor if they 1) Have employees who report to them and are the main evaluators 2) Will be a multi-rater (aka an appraiser) on another employee's review or 3) Will approve/reject finished reviews
Confidential Appraiser - mark someone as this if their comments should be anonymous.
Review Cycle
Use System Setting - this will generate reviews for this employee based on the system-wide default
Anniversary Date - Use this if you want to override the system setting and this employee's reviews should be generated off of anniversary date
Review Date - Use this if you want to override the system setting and the employee's reviews should be based off of a specific date. Also, ignore the year - only the day and month will be used to generate reviews. 
Workflow Setup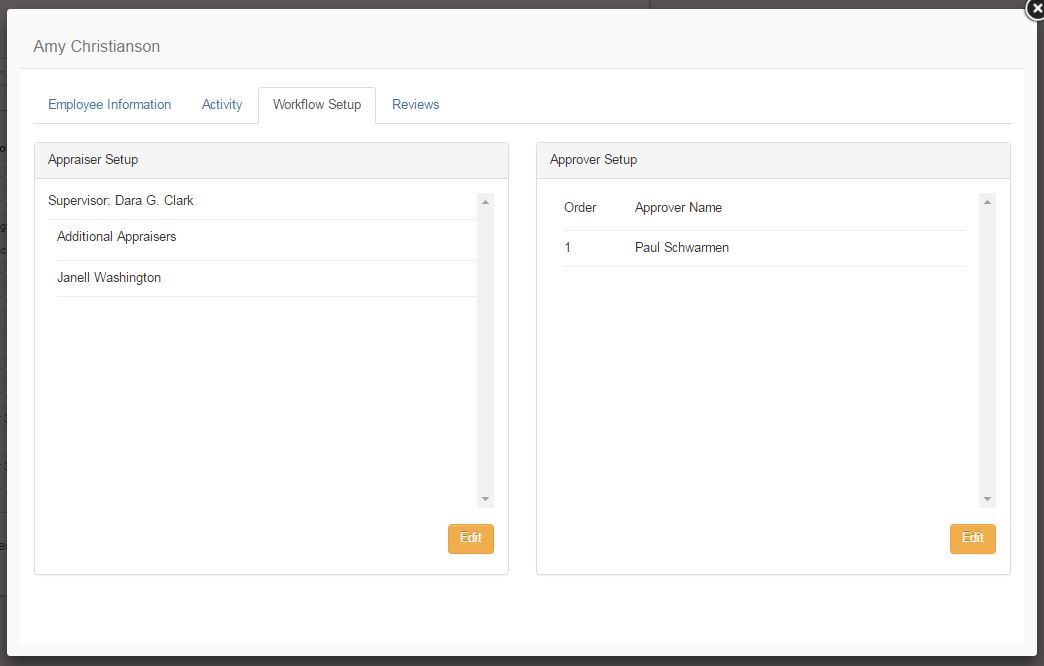 Appraiser Setup: Allows you to select another Appraiser who may evaluate the employee in addition to the assigned supervisor. Click "edit" to add the appraiser. You do not need to include the direct supervisor. 
Note: Appraisers need to be set up under the employee prior to creating the employee review.

Approver Setup: Is where you can select the order or "Routing Workflow" of an employee's performance review.  This is the order the review is routing through for approval. For example, you may want the review to be routed to a division head and then on to the department head for approval. C
lick "edit" to add the approvers.
 If you need to re-order, the approver path, select the employee and toggle up or down.  The last person in the list is automatically assigned the "Final Approver" status. 

Reviews
This provides you with a snapshot of all reviews that have been conducted on an employee. You can create a new review for this employee by clicking "Create Review". You can also copy, edit, and delete existing reviews.
When you click "Create New Review" you will be presented with the information to generate a new review.

Review Type - this is where you say how the review will be created. An "Empty Review" is a blank slate. No factors will be automatically populated. The "Review From Structure" will take whatever was aligned in the library and use that to automatically fill out the review.
Review Name - this is the name of review. For Example, you could enter "John Doe Annual Review 2016" or "John Doe Introductory Review".
Review Description - this is an area where you could enter a short note about the review.
Review Period - This is where you can set what cycle this review is for. "Current" is for reviews that are for NOW. "Next" is for the next cycle review. For example, you may make a 2017 annual review as CURRENT and a 2018 review as NEXT. This can be used as tool to let employees know what they should be working toward.
Create Next Review - this will automatically generate the Next cycle review. You may wish to do this if you are using an introductory review. For example, if you create a 60 day introductory review plus the Next cycle, it will generate two reviews, one for the first 60 days and one for the remaining 10 months.
Lock Review - this will lock the review where no factors or weights can be added. This can be used as a tool to set in stone the factors the employee will be evaluated on throughout the review cycle.